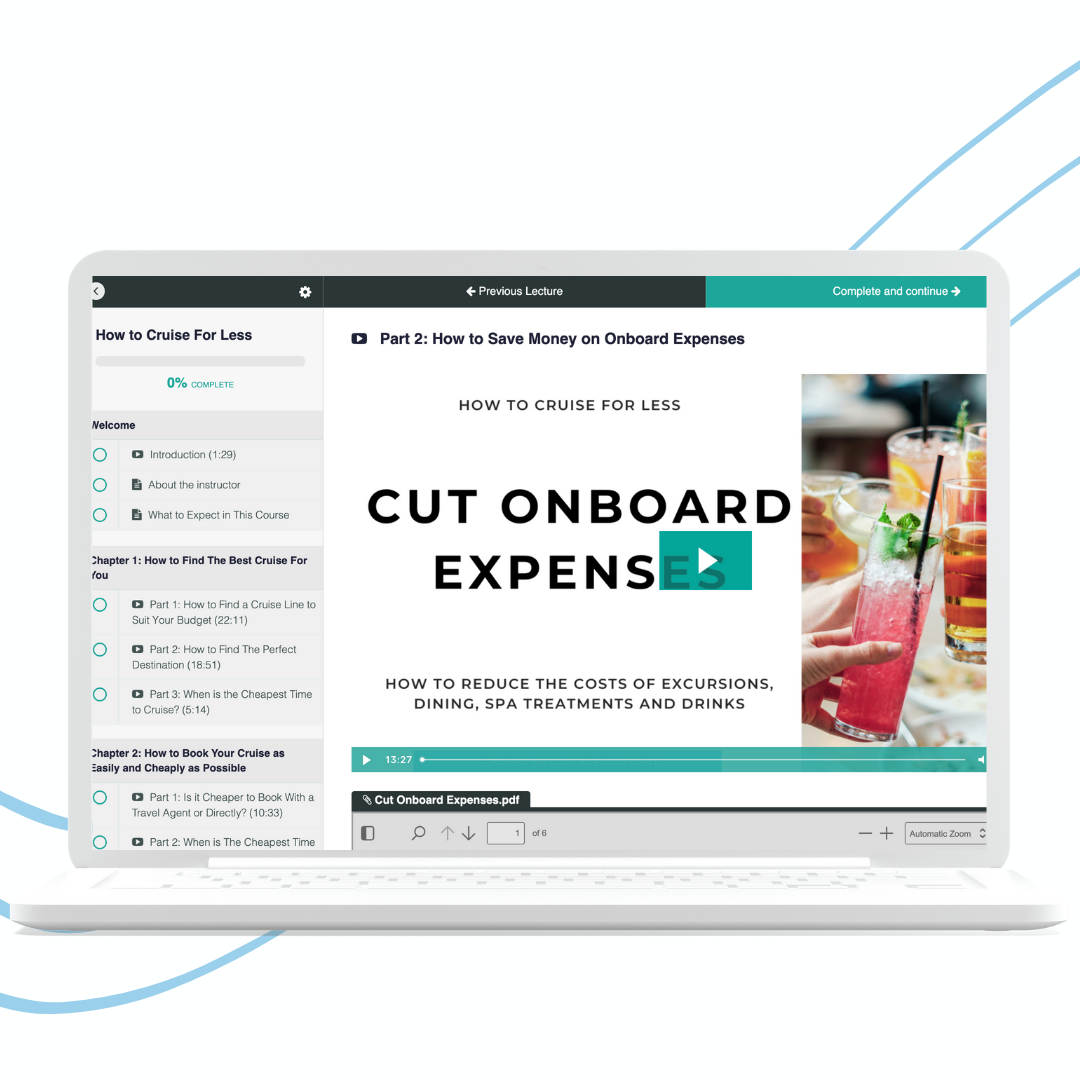 How to Cruise For Less
There is not a lot that I love more than going on a cruise, meeting new friends and realising that I paid considerably less than everybody else for the exact same cruise.
I regularly cruise with mainstream cruise lines for as little as $50 per night and by following my methods within this course, you can too.
You'll learn how to save at least 60% on advertised cruise prices and by implementing my tips, tricks and hacks you'll be able to immediately start securing upgrades and freebies.
You'll find included cheatsheets, tools and guides which will show you how to save money at every stage of the cruising process. 
"Just saying... if you haven't already signed up for Emma's Cruise course, you really should, even if you are seasoned cruisers. We have downloaded the guides and been pausing to discuss points of interest, great way to spend a Saturday afternoon/evening." - Karen
"I'm so thankful for the money saving tips in this course. I've been cruising for a while but never would have thought of some of these things. Thanks Emma!" - Mejoe
"I'm so glad I found this course. It has taught me a lot and I'm really excited to go on my first cruise. I know that I paid the best price for it, with Emma's help of course!" - Patrick
Save 60% On Advertised Cruise Prices
Every time I go on a cruise I see families who are stressed out, they are tripping over bags of things that they don't need and they've spent a lot more on the cruise than me! They've missed out on freebies and experiences which they would have enjoyed had they been better prepared.
I don't want to see anybody else in this situation.
The step by step process outlined in this course will show you not only how I save a considerable amount of money when I cruise but also how I make the most out of the money that I do spend by using my secret tips and tricks to secure discounts and upgrades. 
The methods taught in this course have allowed me to take cruises which I would never have been able to afford otherwise. 
Chapter 1: How to Find The Best Cruise For Your Budget
You'll learn how to you can save money by selecting the right cruise line, cruise destination and time to cruise. 
Chapter 2: How to Book Your Cruise as Easily and Cheaply as Possible
You'll learn how to find the cheapest price for your cruise every time by utilising discounts, promotions, cash back and more. 
Chapter 3: How to Plan and Pack For Your Cruise
You'll learn how to avoid un necessary expenses and save money by pre planning onboard expenses. 
Chapter 4: How to Save Money While Onboard
You'll learn how to cut the cost of cruising expenses and secure onboard freebies and extras. 
"Don't miss this course! Even if you think you know all the ropes I guarantee that Emma will teach you enough to recover at least two times the amount of the price of the course. I bought the course! I am not an inside cabin kind of guy but I still learned loads of tips and ideas of ways to save money. I have at least quadrupled the savings over the cost of the course." - John
Frequently Asked Questions​
Is any support provided after the purchasing the guide?
After the course participants are offered an audio consultation with Emma. Note, this does not include booking or travel agent services.
Are the videos available to stream online or download?
Both! All videos are fully downloadable and available to stream online.
How long do I have to complete the course offered by this guide?
Once enrolled you will have LIFETIME access to the course so that you can complete it at your own rate. New content is being continually added and even if the price increases you'll never have to pay more.
How many videos are available in the guide?
The guide currently includes 16 videos.